QualityAuto 1080p720p480p360p240pRewind 10 SecondsNext UpLive00:0000:0000:00ChromecastClosed CaptionsSettingsFullscreen  click to watch video Share Two in Custody After 7-Year-Old Killed in Florida: Family By Jack Phillips August 14, 2018 Updated: August 14, 2018 Child shot and killed in the 7900 block of 103rd Street.NEW PHOTOS: These vehicles were in the parking lot during the shooting. We need to make contact with these vehicle owners. If you have information call #JSO at 904-630-0500 or email [email protected] pic.twitter.com/4vu59iCW75— Jax Sheriff's Office (@JSOPIO) August 12, 2018 Two people are in custody in the shooting death of 7-year-old Florida girl Heidy Rivas Villanueva, according to her family.First Coast News reported that Villanueva, who was going to be a first grader, was shot and killed on Aug. 11 in a parking lot in Jacksonville.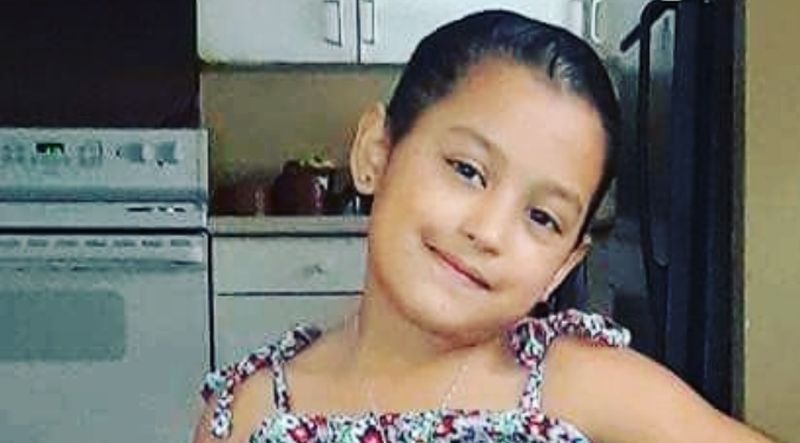 Two people are in custody in the shooting death of 7-year-old Florida girl Heidy Rivas Villanueva, according to her family. (GoFundMe)Heidy got caught in a crossfire of an altercation that took place about 100 feet away from her. She was waiting for her mother along with her 2-year-old sister and father, the report stated.Sheriff Mike Williams said that between 13 and 15 gunshots were fired "relatively quickly," WJCT reported. Two men went behind the family car "for protection and continued shooting," according to the report, and then a bullet hit the family car with the girl inside."When I was paying, my husband ran inside and screamed, 'They killed my little girl,'" Beatriz Villanueva, the mother of the girl, said. "When I went outside, she was already in his arms and he started running toward the hospital." "She died in my arms," said her father, who was not identified in a News4Jax report. "I was with my daughter until the last second of her life. I don't know how I am going to live with this. It's going to take time to recover. I don't think I can," he stated.Details of the Crime Lenny Curry, the mayor of Jacksonville, tweeted his horror about the shooting: "My Lord. My God. This is heartbreaking. These are our children. I've spoken to the Sheriff. Our cops are in pursuit of these terrible people. Prayers for the family. Our law enforcement will bring the full force of the law on those who committed this.""She was a very sweet and lovely girl," a GoFundMe page says. "She loved playing dolls. She was very close with her father. Everywhere he went, she used [to] go with him. She never left his side. She always told her mother she had a dreamed to continue studies and have a career so she [mother] would no longer work.""She was at wrong place at wrong time," it added.Her family is hoping to raise $30,000 to help send the girl's body back to her native Honduras for burial. "I going to send her back home to my country because that where we came from," her father said. "Maybe, one day, I will go back and take flowers to her grave, because I am not going to be able to do it here."

Apple, iPhone, and iPad are trademarks of Apple Inc., registered in the U.S. and other countries."She had already planned out her future, her life. She had already chosen her career path and all her dreams are gone," he said to News4Jax. "They destroyed me as her father."Anyone with information about the shooting can contact the Sheriff's Office at (904) 630–0500 or can write an email to [email protected] People can also anonymously contact Crime Stoppers at 1–866–845–TIPS.News4Jax noted that Heidy is the fourth child under the age of 17 who have been killed by gun violence in Jacksonville in 2018. Meanwhile, she's the 20th child in Jacksonville be killed by gun violence since 2016.
 LINKEDINPINTERESTREDDITTUMBLRSTUMBLEUPON   US News Share this article Show Discussion